In Dubai, we offer you the opportunity to experience the famous Red Dunes desert safari. Red dune bashing has a thrilling backdrop because to the 30 foot towering red rises. Explore the stunning views of the Arabian Desert while riding the red sand dunes inside the best red dunes desert safari Dubai has to give. As you reach the top of Red Hill, you would find that it's the best red dunes desert safari Dubai has to provide. There would also be a photo shoot at night to preserve the memories of this important red hill safari.
Red Dunes Desert Safari Full Package 4×4 Car 100 AED:
Items that are included in the cost of tour price are following:
Pick-up and drop off at your selected hotel or location
Transportation by air-conditioned 4WD Land Cruiser
English-speaking driver
Dune bashing (25-30 minutes)
Welcome drinks (Arabic coffee, dates and tea)
Snacks, water and soft drinks
Henna painting
Short camel ride
Sunset photo stop
Shared camp
Tanoura and belly dance show
Open buffet barbecue dinner with vegetarian and non-vegetarian options
Fire show
Booking by Whatsapp: +971 509912456
Evening Red Dunes Desert Safari:
There is something really magical in strolling into the sand close to midnight, and this nighttime evening safari is no exception. That's the type of trip where tourists are completely looked after. When everyone arrives at campsite, there will be pre-supper refreshments, mehndi tattoo opportunities, and a live performance.
Dune Bashing:
Dune bashing is up and down sand hill experience, you love dune bashing by 4×4 land cruiser.
Flying Carpet and With Supper:
For parties of two excursions, the memorable visit continues to run on order. The adventure begins with a desert ride in one of our luxurious land rovers, followed by a sand-boarding session in a particularly significant quantity of dunes.
A local camel farm is next, followed by a deserving personal grill meal with demonstrations at a sandy tent. The pre-supper bird of flight display is impressive, but it's the whirling swirling performance that really grabbed your interest.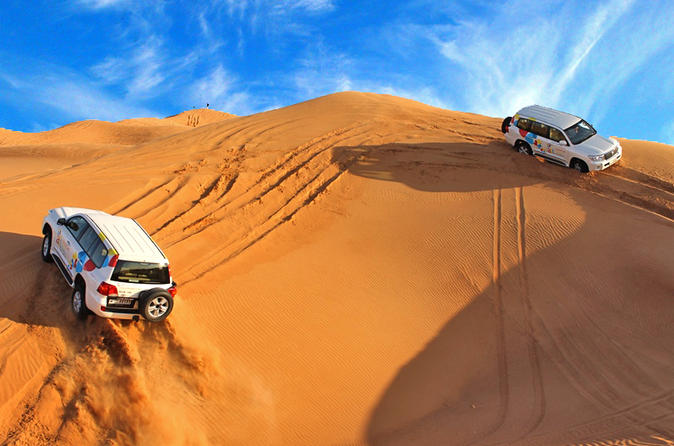 BBQ Dinner and Camping in the Red Desert Dubai:
With magnificent soft seats and coverings spread out, the tent provides you with the utmost pleasure an Arab enjoys. So you can try traditional hubly bubly or freshly produced Arabian coffee. The buffet supper provides an exceptional proper meal that includes a main course, platters of leafy greens, and desserts.
There are numerous items to admire and essential images of your excursion can be taken here. After dinner, you'll see a potbelly artist entertaining the guests by dancing to Arabic melodies. This will undoubtedly be the most comprehensive comprehension of your tour to Dubai; thank you!
Desert Safari, Home Pickup 4×4 Car 110 AED:
Items that are included in the cost of tour price are:
Pick-up and drop off at your selected hotel or location
Transportation by air-conditioned 4WD
English-speaking driver
Dune bashing (25-30 minutes)
Welcome drinks (Arabic coffee, dates and tea)
Snacks, water and soft drinks
Henna painting
Short camel ride
Sunset photo stop
Shared camp
Tanoura and belly dance show
Open buffet barbecue dinner with vegetarian and non-vegetarian options
Fire show
For Booking
Via call or whatsapp +971 509912456