How does it begin?
The desert safari in Dubai is very popular attraction for both tourist and residents and is suitable for couples and families. There are several tour companies in the city, and you can choose to either take a Nissan Patrol, Land Cruiser (popular and affordable) or a Hummer.
These cars will all be equipped with necessary safety features and equipment including roll cages and emergency supplies.
You will also have seat belts and insurance coverage during your desert excursion.
The 4×4 will be able to carry up to 6 passengers, and you might have to share the experience with other people.
If you prefer to have the vehicle only to yourself, then you can book the whole car, but we recommend you book it as early as possible.
This experience usually begins at 3 PM with your selected tour company sending a vehicle to pick you and your family up from your hotel.
Most tour companies do not collect people from residential locations. They will usually have a list of hotels they use as pick up points.
Your driver will then take you to a government approved location, usually with other similar desert safari vehicles and all of them will start the journey together.
Relax on the 45 min drive to the red desert sands on the outskirts of Dubai. Get the option to take a short 20-minute Quad Bike ride(on your own cost ), and then bash the dunes in a 4WD Land Cruiser.
Get the chance to watch the sunset before going to a Bedouin camp. Experience a traditional welcome of coffee and dates and learn more about the culture through multiple activities.
Watch tanoura and belly dance shows, experience the desert from the back of a camel, get a henna painting. Put on traditional costumes for a souvenir photo before a barbecue dinner of Arabian treats.
Booking by Call or Whats app: +971 5262 55114
Know before you go :
Infants (below 3 years old) are not permitted in the vehicle during the dune bashing drive Dune bashing is not suitable for pregnant women
All drivers are trained and licensed desert safari drivers. The vehicles are fully insured and equipped with all necessary safety features, such as roll bars, seat belts, government trackers, GPS, GMS and a first aid box
If your skin is sensitive to henna, then you are advised not to do it.
Desert Safari Dubai, Bus Pickup – 70 AED
Desert Safari, Home Pickup 4×4 Car 120 AED
The tour package inclusions and exclusions at a glance
What is included in this tour?
Items that are included in the cost of tour price.
Pick-up and drop off at your selected hotel or location
Transportation by air-conditioned 4WD Land Cruiser
English-speaking driver
Dune bashing (30-45 minutes)
Welcome drinks (Arabic coffee, dates and tea)
Snacks, water and soft drinks
Henna painting
Short camel ride
Sunset photo stop
Shared camp
Tanoura and belly dance show
Open buffet barbecue dinner with vegetarian and non-vegetarian options
Fire show
Dune Bashing:
This thrilling activity is usually the first event of your evening, and it involves the driving over huge dunes through the vast desert.
We suggest you do not eat a full meal beforehand as it may cause you to throw up.
If you have young kids, senior citizens or people with any physical ailments, we recommend you to check with your doctor in advance if this activity is safe for you.
If not, do not worry: There are tours without dune bashing also, so it would be perfect for those who want to enjoy their evening out in the desert.
Campsite:
After 30 minutes of dune bashing, you will stop for sunset photography and if you are lucky enough you will get to see some desert animals.
As the sun sets you will reach your campsite where you will be able to get refreshments and participate in or experience the following activities:
Camel Riding
For thousands of years, the camel has shared a strong bond with the local Bedouins and was one of the primary means of transport, but nowadays mostly they use them to entertain tourists.
You can experience a ride on top of the camel while being led by a guide.
The camel ride is safe and fun but be careful as the camel stands up as it rises using its hind legs and you should hold on tightly.
Sand Skiing:
Near your campsite, you will come across huge sand dunes, and you can ski on them. The equipment and safety gear you need will be provided for you there.
This activity is usually not covered in your package and must be paid for in cash using Dubai's local currency (Arab Emirate Durham: AED).
Quad Bike:
For the adventurous soul, you can take the quad bike for a quick spin within an allocated area usually for 10-15 minutes.
The price of this activity will not be included in your package.
Traditional Costumes:
You can wear and take photos in the traditional wear of the region.
For men, the long, full-sleeved, ankle length wear is known as Kandura.
For women, it is called Abaya and predominantly black in color.
Henna Painting:
Henna is a natural dye in a paste form which is used to make designs on the skin, and when it is allowed to dry for a few hours, it will leave an orange shade or stain on your skin for around two weeks.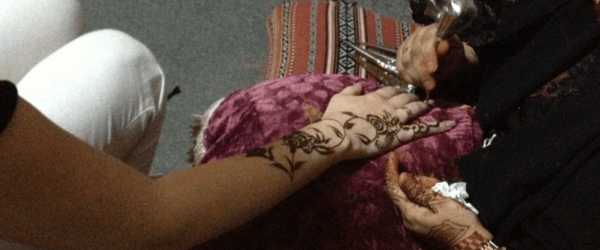 Fresh Dates and Arabic Coffee
There are well over 20 different types of dates available in the Middle East, and the local dates are named Dabbas, Khenaizi, and Lulu. This local fruit is usually offered free within your package.
Food:
The camp offers Buffet Dinner, along with barbecue and beverages (alcoholic and non-alcoholic). Non-Alcoholic drinks and refreshments are free.
Vegetarian food is also available with certain tour companies but make sure you inform them in advance.
Hubbly Bubbly:
Hubbly Bubbly (also called as hookah) is the traditional water smoking pipe along with a choice of flavored tobacco.
It is also known as hubble-bubble and is inhaled using a single or long double pipe which can be smoked by a person or group of people.
Belly Dancing:
This form of art and entertainment is rooted in many cultures in the Middle East, but it is not accurately possible to point out the specific country of origin.
You will enjoy the sight of the belly dancers as they move their body to traditional Arabic songs.
Tanoura Dance:
It is a dance performed by men wearing long colorful robes, and the modernized version includes LED lighting on their clothing.
They will dance to Arabic tunes while spinning around and around.
If you are not from the Middle East region, then it is entirely possible that you have never seen this kind of performance before.
Sand Gifts:
You can buy souvenirs and small trinkets like sand bottle art and keychains at the campsite.
There are also several traditional clothing available for purchase. These lovely gifts will cost you and is not included in your package.
Getting back home:
The standard tour usually finishes by 9:30 PM and the journey ends with your trip back to your accommodation which will take about 55 minutes.
Booking by Call or Whats app: +971 5262 55114